Over its 50 year existence, PROMAX has developed a large number of projects in the instrumentation sector that sought to answer specific measuring requirements. Today we are in the position to offer a wide-ranging catalogue of instruments for a variety of applications.
PROMAX was established in 1963 by José Clotet Llorca in Barcelona to design, manufacture and sell electronic testing and measuring instruments.

Over the years, productivity and quality have been the other key factors in our business strategy. To this end, we have always attempted to incorporate the latest manufacturing and process control technologies in our plants.Today, PROMAX is a leading Company in the information and communications technology sector, and in the field of measuring and testing equipment. We hold a large quantity of patents and manufacture a wide range of instruments and applications. Among others, we are renowned for our instruments employed in the installation, certification and maintenance of fibre optics networks, base band systems like MPEG2, and broad band services such as Cable TV, Satellite and Terrestrial Digital Television, etc.
.

The RANGER Neo 4 is a professional Field Strength Meter and Spectrum Analyzer that is part of a new breed of multifunction, TV, Satellite, CATV and WIFI analyzers.
They are intended to help expert installers and broadcast engineers not only to make their classic installation and troubleshooting work easier but also to deal with the many challenges brought about by the wireless world and the new video delivery platforms.
HEVC H.265 decoding and exceptional spectrum analyser capabilities are at the heart of the RANGER Neo 4 field strength meter surrounded by many functions such as WiFi analysis (including real spectrum display), wide band LNB compatibility, constellation diagram, dynamic echoes analysis, etc..., all in a very compact and light weight product ideal for field work.
4K decoder
DVB-T2/C2/S2, DSS, Dolby Digital Plus
Network Delay Margin
T2-MI analysis
GPS for drive test measurements
DAB and DAB+ digital radio
Super spectrum analyzer with Triple split display
IPTV analyzer
High resolution filters
TS-ASI input and output
Common Interface slot
Transport stream analyzer, recorder and player
Dynamic echoes analysis
Touch screen
HEVC H.265 decoding
Wide band LNB compatibility
Wi-Fi analyzer
webControl remote control
Merogram and Spectrogram
Fibre optics
More than 4 hours battery time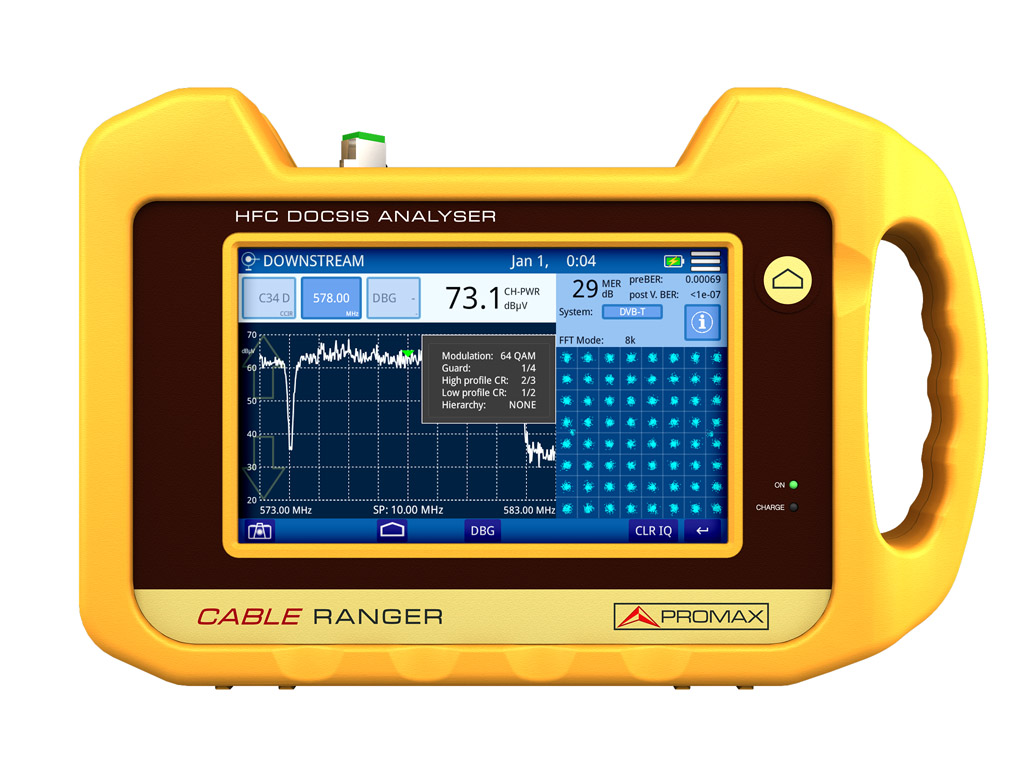 The CABLE RANGER is the latest introduction in our CATV analyzer product range. It is a hybrid analyser for DOCSIS and for HFC (optical) networks.
HFC networks use more and more fiber every time. CABLE RANGER includes an optical measurement input allowing field technicians not only to perform optical power measurements but also to do all the RFoG related RF measurements thanks to the built-in optical to RF converter. In this mode optical power measurement is shown together with the rest of the RF measurements. RFoG (Radiofrequency-over-Glass) is used more and more by CATV operators because it allows them to benefit from the advantages of fiber optics to compete with FTTH service providers.
CABLE RANGER is designed to be very easy to use yet offering all measurements required working with today's complex hybrid fiber and coaxial networks. CABLE RANGER operation is easy and it is based in a touch screen graphical menu. A direct access 'home' button helps you return to a main menu page no matter what function were you using.
SPECTRUM ANALYZER

Resolution

From 5 to 1700 MHz (1200 MHz / DOCSIS, 1700 MHz/DOCSIS 3.1)
10 kHz
FUNCTIONS
Scan
Hum
Web Browser
Tilt
IPTV, VOIP test
Snapshot
Input voltage Measurement
RF Power Measurement
Upstream Test Generator
Upstream Spectrum Analyzer
DOCSIS Bonding Group
Ranging Process
Registering Process
Channel Plan: Standard up to 10, customized up to 30
Optical Power Meter
Optical to RF Converter
Our Products:

Ranger Neo 4
Cable Ranger