For more than 25 years intec Gesellschaft für Informationstechnik mbH has successfully been developing products for the international telecommunications market. We now specialize in high-quality, value telecom handheld testers and have established ourselves as one of the leading providers of xDSL, ISDN, IP and fibre measurement technology in Europe and abroad.

Our customers have appreciated the quality of our products and services for many years. This trust in our products has enabled us to supply more than 100,000 ARGUS®-Testers throughout the world during the last 15 years – a large majority of which have been delivered to international network operators such as Deutsche Telekom, Vodafone, Telefonica, KPN, British Telecom and Telekom Austria.
ARGUS 162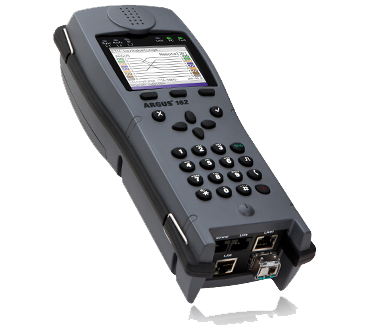 The handheld tester for turbo internet: The ARGUS 162 combines the capabilities of a tester for day-to-day installation with those of a tester for modern high-speed interfaces, such as GPON (FTTH), LTE, G.fast (ITU-T G.9700/9701), VDSL2 profile 35b (ITU-T G.993.2, Annex Q), also known as Super Vectoring or optionally VDSL2 Bonding (G.bond: ITU-T G.998.2). In addition, it is equipped with a powerful and versatile SFP slot (FTTx) and a copper-based Gigabit Ethernet interface which can, for example, provide a full ONT or xDSL modem simulation. Furthermore, ARGUS 162 is available with an optional ADSL interface (Annex A + B + J + L + M) and supports VDSL2 Vectoring (G.vector: ITU-T G.993.5) as well as all well-known handset functionalities for ISDN PRI/E1, BRI S/T/U and POTS if needed.
Technical Features:
Power supplly by Li-Ion battery pack or mains adaptop
Hotkeys for quick start of various tests
Power management, user configurable
Keypad: 18 keys, 4 cursors keys, 3 context-specific softkeys
LCD colour display (QVGA - 320 x 240 pxs), backlit
LEDs: 6 LEDs too indicate the status + Ethernet LEDs
Handset with integrated earpiece and microphone
CE marking: complies with CE directives
User safety: fulfils EN 60950-1:2006-11
RoHS confirmance acording to WEEE directive
Interfaces:
2 x RJ-45 jacks for xDSL, G.fast, URC, POTS and ISDN
1 x Ethernet (10/100/1000 Base-T), RJ-45 test port
1 x SFP slot (100 Base-FX/LX, 1000 Base-SX/LX/ZX/BX)
USB client interface (type mini B)
2 x USB host interfaces (type A)
Jeadset plug socket (TRS 2.5 mm, approx. 3/32")
Environmental conditions:
Operating temperature: 0 oC (+32 oF) up to +50 oC (+122 oF)
Storing temperature: -20 oC (-4 oF) up to +60 oC (+140 oF)
Relative humidity: up to 95 %, non cendensing
Dimensions:
Size: H x W x D: 254 x 99 x 73 mm (10.0 x 3.9 x 2.9 in)
Weight: