Insatiable data demand, caused by the relentless growth of mobile and Internet of Things (IoT) devices, is driving mobile networks to evolve from a typical macro cell site based coverage topology to a denser capacity-based heterogeneous network. Recent advancements in radio technology (improved power amplifier efficiency, better design and longer MTBF), have enabled service providers to install remote radio units (RRU or RRH) close to the antenna near the top of the tower. This technology improvement has enabled service providers to improve capacity, coverage, and signal integrity, while at the same time reduce electrical, leasing, and cable costs.

Viavi helps ensure top performance in virtually every major network—from the NOC to field technicians—and over 100,000 data centers worldwide, from deployment and installation to monitoring and optimization.
Fiber Connector Inspection and Cleaning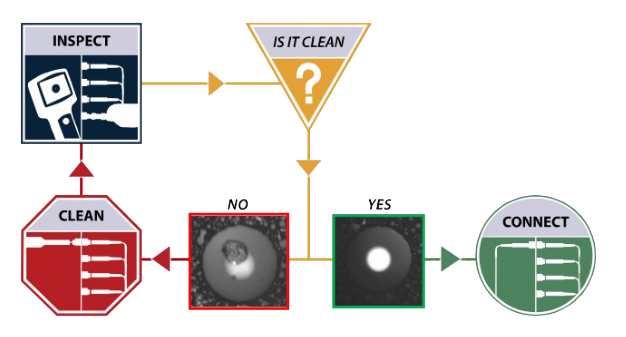 Dirty connectors are the number one cause of poor performance in optical networks. Microscopic particles of dirt can create enough signal loss and back reflection, causing significant downtime and network damage. The increasing bandwidth requirements in today's mobile networks leave little room for the errors caused by dirt.
SmartOTDR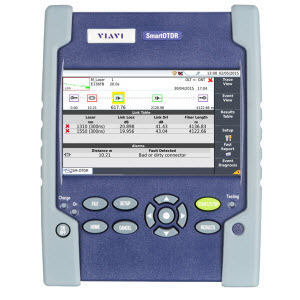 The lightweight and compact SmartOTDR speeds and optimizes field testing of metro and access networks—with a tailored OTDR interface and automatic analysis that any technician can understand.
Overview
The SmartOTDR essential handheld fiber tester is an affordable, easy-to-use device for techs at any level, with robust wireless connectivity options that increase productivity anywhere. It integrates all the essential fiber test requirements into a single device with OTDR measurement, fiber end face analysis, optical loss testing and visual fault locator.
Benefits
Ensures fast and easy measurements
One touch operation, automatic analysis, and tailored OTDR user interface for different skill level
Manage data from anywhere in the network
Several connectivity options (3G/4G smartphones via USB and optional Bluetooth/WiFi) enable remote control as well as data and work-order transfers to-and-from tablets, smartphones, and computers.
Reduces cost of ownership
Three year warranty as standard coverage
Optimizes field operations
Light, ultra compact, hands-free design and an extended autonomy up to 20 hours
Applications
Characterize point-to-point access & metro fiber networks
Qualify and troubleshoot FTTH/PON networks
Qualify and troubleshoot singlemode FTTA/DAS front haul
Key Features
Single-/dual-/tri-wavelength versions with 1310, 1550, and in-service 1625 nm wavelengths
PON optimized to test through a 1x128 splitter
Automated fiber inspection pass/fail analysis software
Integrated CW light source on OTDR port
Built-in optical power meter and VFL options
Large 5-inch touch screen display
OneAdvisor-800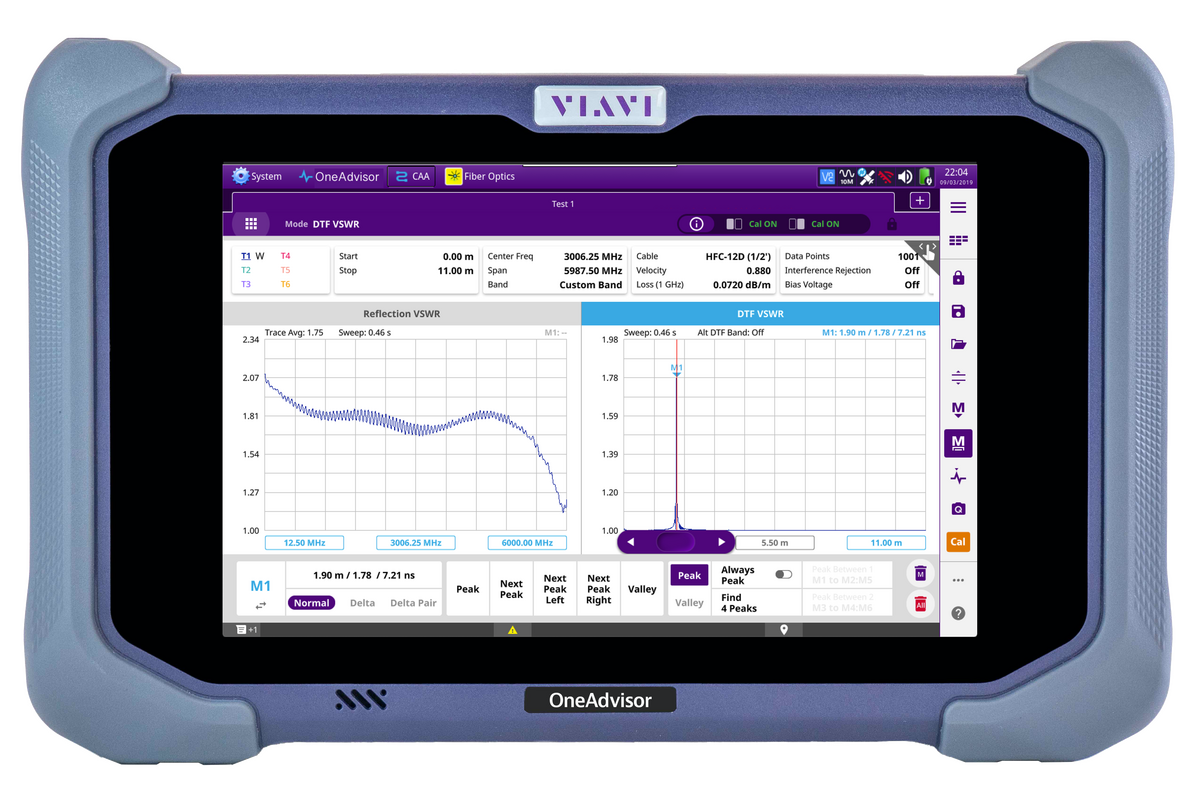 The VIAVI OneAdvisor-800 is designed to meet the evolving needs of service providers, field technicians and contractors as they scale 5G infrastructure. OneAdvisor-800 allows cell site technicians to test fiber, RF, and CPRI/Ethernet from a single instrument, replacing multiple independent tools (OTDR, CAA, Fiber Scope) and significantly reducing the total cost of ownership.
The instrument's workflow user interface carefully guides technicians through a pre-configured common test process, making sure that technicians complete the job in the same way and to the same specifications. With OneAdvisor-800, tower hands get built-in guidance, automatic test configuration, pass/fail results, and a single closeout report every time, at every site.
OneAdvisor helps you get in, get out, get paid.
Key Features
Improved tool efficiency. Replaces multiple independent tools (i.e. OTDR, CAA, Fiber scope, etc).
Broad coverage. Covers all radios types (LTE and 5G) and topologies (Macro-cell, Small-cell, C-RAN, and/or DAS)
Scalable. As a team's test responsibility grows, so can the OneAdvisor platform with modular test components
OneAdvisor-800 Test Process Automation Benefits
Greater accuracy. Complete test plans exactly to the specifications of the service provider with precise measurements.
Consistency. Test processes and workflows are defined centrally and "pushed" to test instruments, eliminating the variability of manual procedures and drives consistent, repeatable results, regardless of technician skill or experience level.
Lower Training Costs. Training focus shifts to the test process itself, which is faster and easier to learn, rather than on technical information that is generally time-consuming and overwhelming for new technicians.
Speed. Job Manager eliminates wasted technician time trying to remember which tests to run and how to run them


OneAdvisor-1000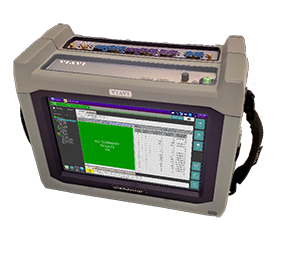 The OneAdvisor-1000 delivers all the test capabilities technicians and engineers need to install and maintain high-capacity networks. Supporting emerging and legacy technologies, the OneAdvisor-1000 is ideal for metro/core, data center interconnect, and business services testing.
At this stage in the technology's lifecycle, 400Gbps services in the field are rare and finding portable equipment to test those circuits is a challenge. The VIAVI OneAdvisor-1000 tester is more than up to the task, providing full-rate and protocol coverage to address service activation, troubleshooting, and maintenance for 400G circuits. With advanced tests like Optics Self-Test for QSFPx and SFPx pluggables, high-speed cable testing for data centers, RFC 2544/Y.1564, and OTN Check, technicians and engineers can test high-capacity networks faster and more accurately than ever before.
Key Features
PAM-4 native support provided via connectors and interfaces also to test 400GE
QSFP-DD and SFP-DD interfaces
Compatible with fiber optics test modules such as OTDR and WDM Channel Checkers
Tests new technology including PAM-4 and KP4 FEC at 400GE
Scalable and Modular
Our Products:

SmartOTDR OneAdvisor-800 OneAdvisor-1000