Born from "Furukawa Information Technologies and Telecommunications," the Fitel brand has expanded to include not only optical components, but also, fusion splicers, connectors and various optical-related products. With years of experience and a deep understanding for customer needs, the name has become synonymous with advanced technologies and unbeatable quality.

Furukawa Electric Co., Ltd. was founded in 1884 and since that time has played a dominant role in the growth of the global marketplace. Since manufacturing the world's first optical fiber cable in 1974, Furukawa has led the development of optical fibers by establishing a total production system for products ranging from high-performance silica-based optical fibers to a variety of optical fiber cables manufactured under the brand name "FITEL".
S179A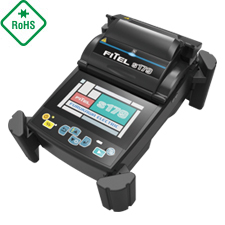 Core Alignment Fusion Splcer
Feature and Benefit
Exceptional performance for fast and consistent fiber splicing
Enhanced ease of use and portability
High-speed splicing and heating
Ruggedized body design
Easy, intuitive operation
Compatible with Splice-On-Connectors (SOC)
State-of-the-art communication methods
Quick and easy maintenance
Overview
The FITEL S179 Hand-Held, Core Alignment Fusion Splicer offers powerful performance, delivering fast and reliable optical fiber splicing even under harsh environmental conditions. By combining speed, precision, durability, portability and state-of-the-art communication methods in one unit, this fusion splicing machine opens the door to an entirely new range of applications.
The FITEL S179 Fusion Splicer is highly effective for use in data centers, long-haul operations, Metro, LAN, and FTTx fiber, including ultra bend-insensitive fibers as well as large area effective fibers