Radiodetection is a world leader in the design and development of test equipment, used by utility companies, to help install, protect and maintain their infrastructure networks.

Founded in 1970, Radiodetection is headquartered in Bristol, UK, with worldwide sales, service and support achieved through a network of sales channels across the globe. Our product range includes tools for damage prevention to buried services; powerful video systems for pipeline inspection; high-performance dehydrators and cable-test products for telecoms; and our solid-state sensors business.
.
Cable and Pipe Locator Range
Each Radiodetection cable locator is designed to provide the best locate performance for damage prevention professionals working in all industries and utilities.
The Precision Locate range of underground utility locators comprises: the fully-featured, multi-function RD8100 cable and pipe locator; the utility-specific RD7100 locator, the innovative RD7000M and RD8000M locators that combine the ability to find buried Markers with finding underground cables and pipes; and the single-frequency RD5000WL pipe locator for the water and gas industries. These locators must be used with our signal transmitters, TX-1, TX-5 and TX-10, to achieve full performance. Plastic pipes, frequently used to carry water or gas, can be found by using our range of transmitting Sondes.
Built on over 40 years of underground cable and pipe locator innovation, our precision-manufactured antennas and advanced digital processing enable operators to accurately detect even the extremely small signals associated with difficult to locate underground utilities. These flagship products replace our extremely popular RD8000, RD7000 and RD4000 ranges of cable and pipe locators.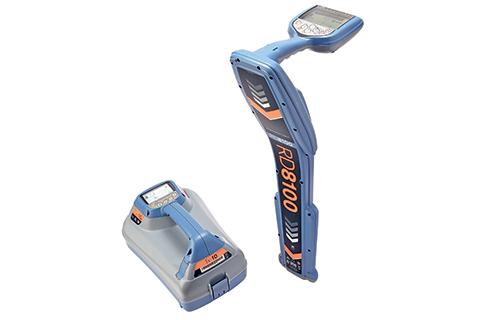 RD8100 Cable and Pipe Locator
Cable and Pipe Locator Range
RD8100® cable locator is engineered to deliver high precision for damage prevention when locating buried cables and pipes. This advanced range of underground utility locators offers optional integrated GPS and usage logging, and is backed with a 3‑year warranty.
RD8100 is our most advanced range of high-precision cable locators, and builds on over 40 years of pedigree to deliver performance, quality and durability. Containing a unique arrangement of 5 custom-manufactured, precision-ground antennas, it allows you to choose the best method to locate specific pipes and cables.
With utility infrastructures becoming more complex, locate professionals require more powerful, flexible tools. Features such as Current Direction and iLOC on the cable locator combine with the versatile Tx Transmitter range to deliver high-precision locates even in tough conditions
Integrated GPS and usage-logging options automatically generate data for customer reports, or in-house quality and safety audits to promote best working practices.
CAT and Genny: Drive best practice, reduce utility strikes, and improve safety
Cable Avoidance Tools assist in avoiding buried cables and pipes during excavation, reducing the risk of injury to personnel and damage to utilities. The Genny4 generates signals that flow along buried utilities. The C.A.T4 detects signals, whether generated by the Genny4, inherently radiated from metallic services, or from the complementary range of Sondes
Building on over 40 year's experience, C.A.T4 and Genny4 comprise Radiodetection's most advanced CAT and Genny system to date, designed to deliver optimal performance, higher levels of safety, advanced features and at competitive cost of ownership. The Genny4 generates signals simultaneously in two frequencies, and the C.A.T4 detects these two frequencies simultaneously to give greater assurance in finding all buried services without adding complexity for users
Data Logging
Our eC.A.T4 and gC.A.T4 products are equipped with automatic usage-logging capable of holding 2 years of work history in internal memory for later analysis. The gC.A.T4 adds GPS information to the usage data to identify the position of each scan, and Bluetooth connectivity to Android and iOS devices to enable near real-time monitoring and analysis of on-site gC.A.T4 usage.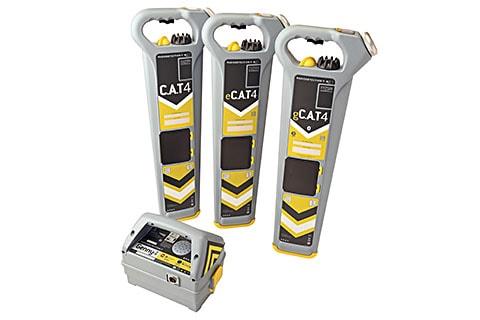 CAT and Genny
The latest range of Cable Avoidance Tool (CAT) and Signal Generator (Genny), pioneered by Radiodetection.
C.A.T4® and Genny4® products provide a comprehensive range of Cable Avoidance Tools helping professionals to drive best locating practice, to reduce the number of cable strikes, and to dig more safely.
C.A.T4
The C.A.T4 is the standard model of the range. Using it with the Genny4 transmitter, experienced operators will be able to find more buried utilities, faster.
eC.A.T4
This model is equipped with an automatic recording system which stores up to 2 years' worth of usage data in its internal memory. Data can be later retrieved and analysed using a USB lead and a PC.
gC.A.T4
This model adds GPS position to the usage data recorded. Bluetooth connectivity allows seamless transfer of usage data to the C.A.T Manager Online cloud based system for near real-time monitoring of operators' performance.
Genny4
Genny4's patented simultaneous dual-frequency signal output facilitates location of small diameter cables such as telecoms and street lighting, including spurs. All C.A.T4 locator models have patented technology to detect both signals simultaneously. The power boost function in Genny4 enables the locate signal to travel further and deeper, and couple onto utilities more easily.
C.A.T Manager
C.A.T Manager is a software suite designed to offer online or local analysis of usage behaviours, explore surveyed locations using Google Maps, and produce surveys and usage reports. Data can be exported and shared as KML or CSV files.
The PC version offer the ability to keep fleets up-to-date with the latest firmware and in calibration.
Near-real time monitor of gC.A.T4 and Genny4 fleets is possible using the Android or iOS app and the cloud based C.A.T manager Online.
Our Products:

RD8100
CAT and Genny