OPTELINK Technology Co., Limitd(OTK), as one of the leading R&D manufactories, is based on researching and developing Telecommunications access equipment and Video Surveillance equipment that are applicable world-wide to fiber transmission, access network, IP network communication and broadband markets. OTK is dedicated to offering innovative and optimization solutions, high-quality products and the best technical supports to carriers, ISPs and enterprises.

Strong R&D power, innovation ability and professional manufacturing and quality control system is to make ensure that the equipment which OTK provided is trustworthy. OTK is an ISO 9001 certified company, undergoing regular inspections and continuing certifications. Meanwhile, OTK also obtained CE, FCC, etc. certification, indicating that our products have met the most rigorous testing standards in the world. Currently, our products are widely used in China Mobile, China Telecom and China Unicom, the top three carries in China. In addition, we are exporting our equipment to dozens of countries and have received high reputations from our customers. OTK strides to maintain high integrity of intellectural properties to deliver best price performance to you.
.


Overview
FB004 is an Ethernet to E1 converter with one copper fast Ethernet interface and one 75Ω/120Ω E1 interface*. It is featured by ultra-compact, cost-effective and low power consumption, which is ideal for application areas such as network access, transparent LAN service and LAN extension.
*: Note that the 75Ω/120Ω impedance is optional, which should be declared before order.
Feature
Realizes 10M/100M Ethernet transmission over E1 cable.
Ethernet Interface
---> One fast Ethernet interface compliant with IEEE 802.3/802.3u, adopts RJ45 connector,
supports auto- negotiation, which can work in 100M full/half-duplex, 10M full/half-duplex mode.
---> Illegal frames such as bad CRC packets, runt packets (less than 64 bytes) or oversize
packets (more than 2031 bytes) can be discarded.
---> PAUSE flow control ability in full duplex mode.
---> Auto MDI/MDX function.
E1 Interface
---> Bit rate is 2.048Mbit/s.
---> One E1 interface compliant with ITU-T G.703 with optional 75Ω/120Ω impedance.
Encapsulation
---> Supports HDLC encapsulation compatible with RJ017*.
---> Supports GFP-F encapsulation compliant to ITU-T G.7041 standard.
Remote loop and Embedded BERT (Bit Error Ratio Tester) testing function
Necessary E1 Alarm indications such as LOS, LOF,AIS and CV
RJ017 is an Ethernet bridge chip produced by RAD Data Communications, Israel.
Typical Application


Fig. 3-1 Point-to-Point Application
Fig. 3-2 Point-to-multipoint Application (STM-1 interface)
Fig. 3-3 Point-to-multipoint Application (E1 interface)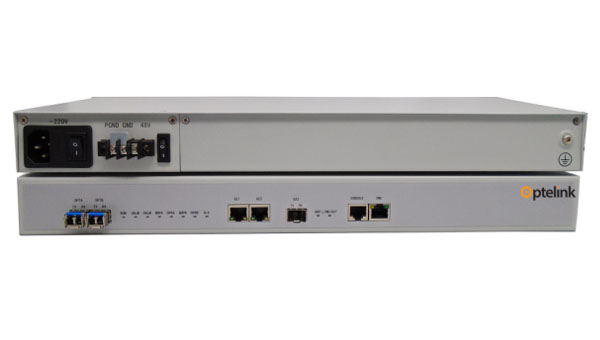 Overview
OTK1044 is a STM-4 SDH terminal multiplexer that transports Gigabit Ethernet over SDH networks. It provides 3 Gigabit Ethernet interfaces and 2 STM-4 interfaces, supports 1+1 path protection and 2+0 mode. In 1+1 mode, the 3 Gigabit Ethernet interfaces share one VCG channel and the bandwidth is 4xVC4 (556Mb/s). In 2+0 mode, the 3 Gigabit Ethernet interfaces share one VCG channel and the bandwidth is 8xVC4 (1112Mb/s). Therefore, By GFP and EoSDH technology, OTK1044 can realize Nx139Mb/s (N=1~8) Ethernet traffic transmission over STM-4 line.

Feature
STM-4 interface
--> Number of ports: 2(1+1 or 2+0)
--> Date rate:622Mbps;
--> Connector: SFP slot, Hot pluggable. Optical or Electrical optional;
--> Operating Mode:
1+1 (One VCG channel/1+1 path protection, Recovering time: <50ms);
2+0 (One VCG channel/Without Path protection);
--> Supports real-time detection for the status of optical module;
--> Supports ALS (Automatic Leaser Shutdown);
--> Supports RPD (Remote Power down Detection).
Gigabit Ethernet interface
--> Number of ports: 3;
--> Combinations:
2 electrical Gigabit Ethernet (GE);
1 optical Gigabit Ethernet (GX);
--> Connector:
RJ-45 for electrical (1000BaseTx);
SFP for optical (1000BaseSx or 1000BaseLx);
--> Date rate:
Optical 1000 Mbps;
Electrical 10/100/1000Mbps;
--> Number of VCG channel: 1;
--> Max Frame Size:1518/2000/9720 bytes;
--> Min Frame Size: 64 bytes;
--> Supports unicast, multicast and broadcast frame;
--> MAC address table: 4K;
--> MAC aging time: 15/300 seconds;
--> MAC address dynamic learning;
--> VLAN: Supports IEEE 802.1Q tag-based VLAN and port-based VLAN;
--> QinQ: Supports QinQ (Double Tag VLAN);
--> Supports up to 4K items VLAN table;
--> Supports link aggregation function;
--> Supports IEEE 802.1P QoS;
--> Provides performance statistic for each Ethernet port;
--> Supports 802.3x flow control and broadcast storm filtering control;
--> Compliance:
Relevant sections of IEEE 802.3;
GFP-F encapsulation, compatible with ITU-T G.7041, G.7042 recommendation.
NE Management
--> CLI: Local management is performed via CLI terminal.
--> SNMP: Compatible with V1 and V2C protocol. Access is available using SNMP management
software "Smartview".
--> LED indication: Necessary alarm indications such as NOP, LOF, RPD.
--> Download online: Supports FTP protocol and firmware download online without disturbance of
existing traffic.
Typical Application
Figure.3-1 Point-to-point Application
Our Products:

FB004
OTK1044