History
China Electronic Technology Instruments Co.,Ltd was established in May 2015, with the headquarter located in Qingdao, Shandong province. Owning the 40th and 41st institute of CETC(China Electronics Technology Group Corporation) as the core, the company has a professional team engaged in the research and development of electronic measurement instruments, automatic testing system, microwave & millimeter wave components, and other electronic products, which enables the company with powerful capability of research &development, manufacturing, test and verification. Devoting to the research and development of high-tech electronic technologies and products, China Electronics Technology Instruments Company has been focusing on the development and volume production of microwave/millimeter-wave, optoelectronic communication, digital communication, fundamental general measurement instruments and automatic test system, microwave/millimeter-wave components as well as providing test methods for research and production of military & civil electronic components, whole instruments and systems.

Taking instruments research & development as the cornerstone and comprehensive service as our responsibility, CETI is determined to become an industry leader in the global market, and is willing to cooperate with domestic and foreign partners, to make more contributions to reliability and advances of your measurements.
4024A/B/C/D/E/F/G Spectrum Analyzer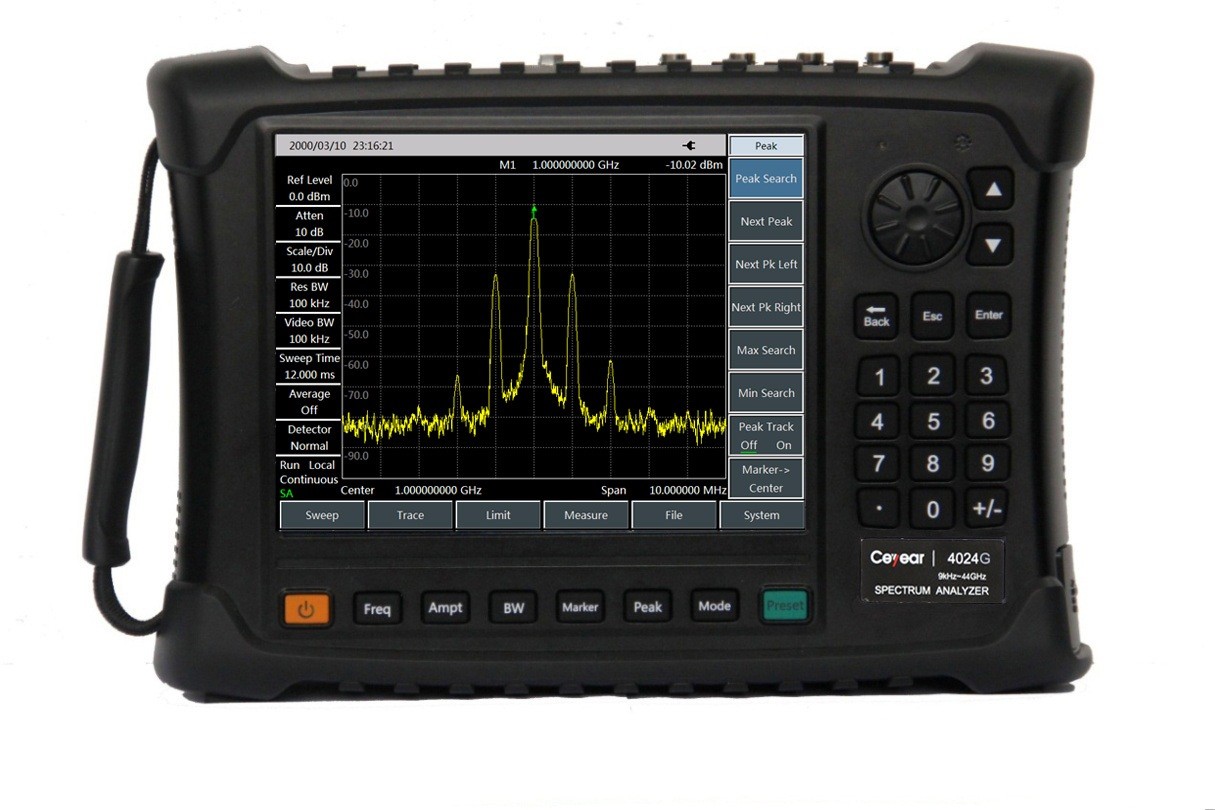 PRODUCT OVERVIEW
4024D/E/F/G Spectrum Analyzer possesses many advantages: a wide frequency range, high performance, high sweep speed, various functions, and easy operation. In terms of performance specifications, it has advantages of excellent displayed erage noise level, low phase noise, and high sweep speed; In terms of measurement functions, it enjoy rich measurement functions of spectrum analyzer, interference analyzer, AM/FM/PM analyzer, power meter, channel scanner etc., as well as intelligent measurement functions of channel power, occupied bandwidth, adjacent-channel power ratio, tune & listen, emission mask, and carrier-to-noise ratio etc.. 4024 deploys the integrated design of 8.4 inch LCD and capacitive touch screen, which improves the display definition and operation convenient. The series are handheld, compact and lightweight, with flexible power supply, which are very suitable for field work.
4024 can be used for signal and equipment test in the fields of aerospace, microwe & satellite communication, radio communication, radar monitoring, electronic countermeasures & reconnaissance, and precision guidance.
FUNCTIONS & FEATURES
Wide frequency range: from 9KHz to 44GHz, 4 models

Low displayed erage noise level: -163dBm@1Hz RBW (typical)

Excellent phase noise performance: -106dBc/Hz@100KHz frequency offset@1GHz carrier

High sweep speed: for 1GHz span, shortest sweep time <20ms

Resolution bandwidth: 1Hz~10MHz

Full-band pre-amplifier: standard configuration

Rich measurement functions: spectrum analyzer, interference analyzer (spectrogram, RSSI), AM/FM/PM analyzer, channel scanner, high accuracy power meter etc.

Various intelligent measurement functions: field strength measurement, channel power, occupied bandwidth, adjacent-channel power ratio, tune & listen, carrier-to-noise ratio, emission mask

Various auxiliary test interface: 10MHz reference input/output interface, GPS antenna interface, zero span IF output interface, external triggering input interface etc.

Easy & convenient user operation: 8.4 inch high definition LCD and large font display, convenient capacitive touch screen operation, combination of LCD and touch screen and various display modes, etc.

Operating temperature range: -10℃~50℃. Power supplied by battery or adapter

Various measurement functions
3680A/B Cable& Antenna Analyzer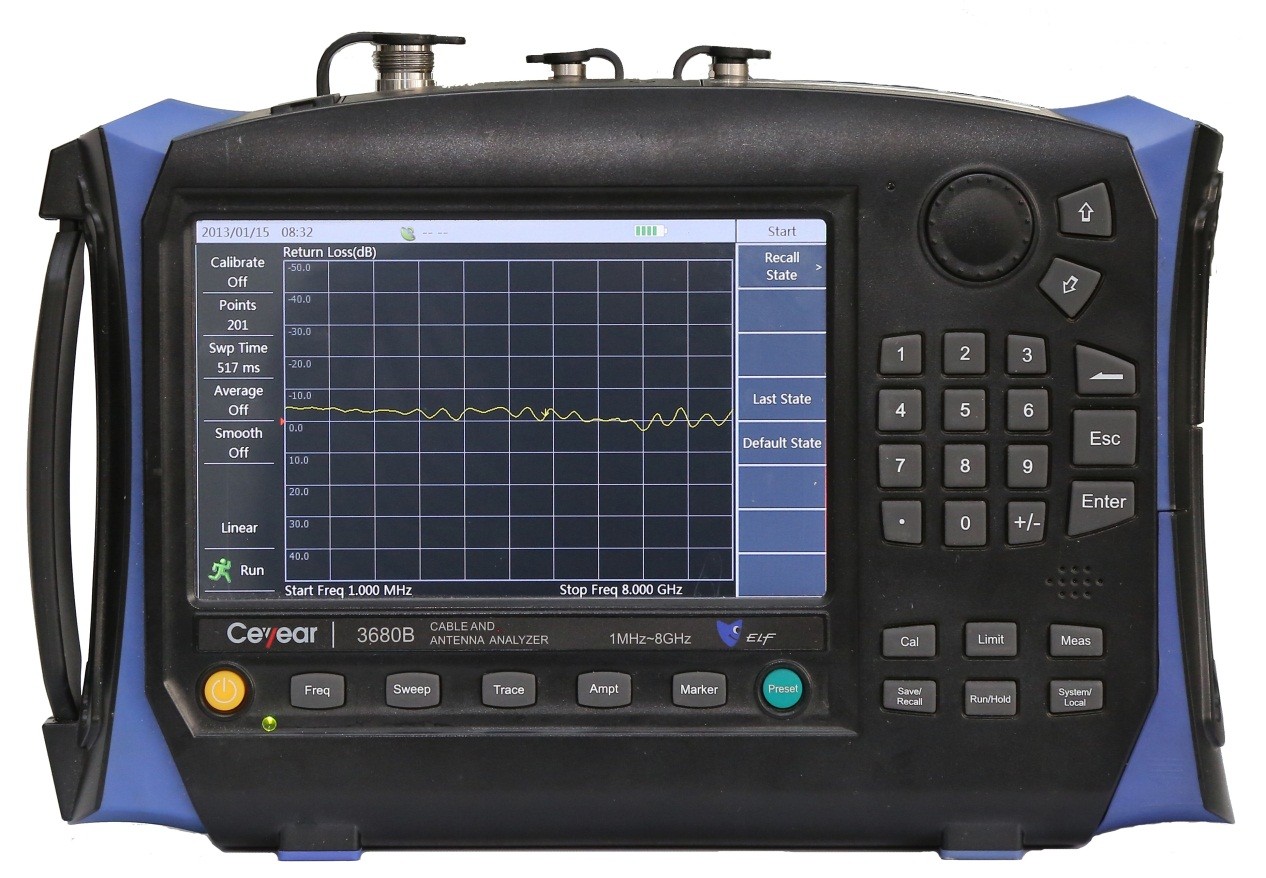 PRODUCT OVERVIEW
Adopting advanced techniques such as hybrid integration design of RF circuit and digital circuit, wideband fundamental-wave mixing, digital IF processing, intelligent power management, 3680A/B Cable & Antenna Analyzer has advantages of high-speed, high-accuracy, compact, lightweight, battery-powered, touch screen operation, automatic adjustment of backlight brightness. Besides testing VSWR, return loss, characteristic impedance, and phase, it can precisely locate the fault points as well.
3680A/B Cable & Antenna Analyzer is developed for on-site test, which is mainly used for the test of cable & antenna system in various communication base stations, including trunking, GSM, PCS/DCS, CDMA, GPRS, WCDMA, CDMA2000, TD-SCDMA, LTE and paging system.
During the installation, calibration and routine maintenance of cable & antenna system, the cable& antenna analyzer can help users to quickly estimate the status of the transmission line and antenna system, improve the maintenance efficiency of the running base stations and speed up the installation and calibration of new base stations. Besides, it can also be used for the reflection parameter test of RF devices and components in scientific research, teaching and manufacturing.
FUNCTIONS & FEATURES
Support multiple measurements
It supports 7 measurements: return loss, VSWR, cable loss, DTF return loss, DTF VSWR, Smith chart, phase. And it can conduct comprehensive measurement and fault diagnosis on cable and antenna system.
Touch screen operation
The instrument has a 7 inch LCD touch screen. Besides menu operation, users can also set the parameters by clicking all the displayed information on the touch screen.
Our Products:

4024 Series
3680 Cable & Antenna